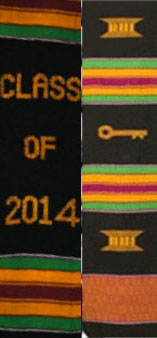 Donning of the Kente

SUMMER COMMENCEMENT 2014
West Texas A&M University (WTAMU), the WTAMU Faculty and Staff Diversity and Inclusion Council, the Diversity Committee, and the WTAMU Office for Diversity and Inclusion congratulate graduating Black/African American undergraduates and graduates on their upcoming Summer 2014 graduation.
An opportunity to order a Kente Stole for your Summer Commencement 2014 is available to you but is not required. Ordering a stole is voluntary.
To order a stole from West Texas Graduation Services, please complete the 2014 Kente Stole Order Form. You will need to pay the total amount of the stole, which includes tax, with credit cards or money orders made out to West Texas Graduation Services.
THE ORDER DEADLINE IS JUNE 30, 2014.
Money orders will be accepted.
Please allow adequate time for mailing.
For more information, please contact Kim Coe, Administrative Assistant, Office for Diversity and Inclusion, Classroom Center 133G, 806-651-8482 or diversity-inclusion@wtamu.edu or visit wtamu.edu/diversity.